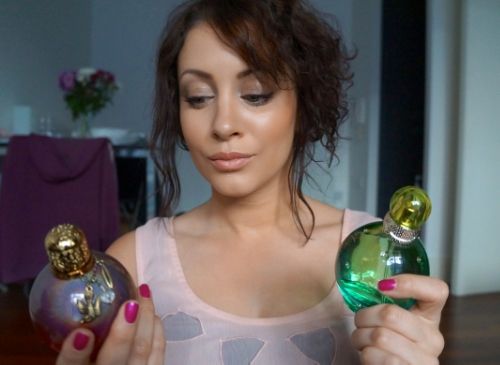 Hmmmm which to wear???
I am absolutely loving these two celeb perfumes at the moment.
On the left is Taylor Swift's Wonderstruck Enchanted and on the right is Britney Spears' Island Fantasy.
I love having new perfumes for summer - there is something about the warmer weather that makes me want light, summery, fresh scents. In winter I prefer heavier, spicier scents.
Wonderstruck Enchanted
This perfume really reminds me of soap and glory's signature scent for their Clean on Me Shower Cream. Which I love.
It's created with Elizabeth Arden - very floral and sweet, but not so much so that it gives you a headache! I'd describe it as perfectly feminine and lasts all day.
I love the uber girlie packaging - the charms are an absolute winner for me. I always love charms on perfume bottles!
It retails at £21 - £38 depending on size (30ml - 100ml) and can be purchased at Boots, Superdrug, Debenhams and The Perfume Shop.
Britney Spears - Island Fantasy
This perfume is totally different to the first one but equally as nice.
This one reminds me totally of a tropical holiday! I absolutely love it. It smells of limes, all things tropical and really fresh.
It literally reminds me of a tropical drink you would have at a holiday resort. I absolutely love how bright the packaging is and the diamante bits around the bottle. So pretty and looks like the sun bouncing off the sea to me!
Britney Spears Island Fantasy Perfume retails at £24 - £34 (50ml - 100ml) at Boots, Superdrug, Debenhams and The Fragrance Shop.