Sunday, 23 June 2013
Published on:
Sunday, June 23, 2013
by
Giddy Princess
-
4 comments
MAC Studio Fix Fluid Foundation - NC 30
Estee Lauder Double Wear Foundation - Fresco
Bobbi Brown Corrector - Bisque
Bobbi Brown Concealer - Pale Yellow
MUA Gel Eyeliner - Underground
Lancome Liquid Eyeliner - Black
Ardell Fashion Lashes - Demi Whispies
MAC Ruby Woo Lipstick
Revlon Lip Butter - Candy Apple
Rimmel Translucent Powder
It's my new favourite dress and I am definitely getting it in other colours!
Published on:
Sunday, June 23, 2013
by
Giddy Princess
-
2 comments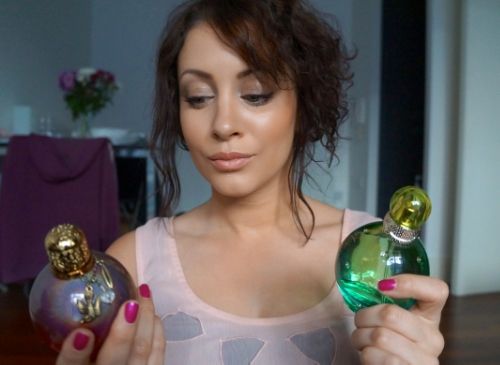 Hmmmm which to wear???
I am absolutely loving these two celeb perfumes at the moment.
On the left is Taylor Swift's Wonderstruck Enchanted and on the right is Britney Spears' Island Fantasy.
I love having new perfumes for summer - there is something about the warmer weather that makes me want light, summery, fresh scents. In winter I prefer heavier, spicier scents.
Wonderstruck Enchanted
This perfume really reminds me of soap and glory's signature scent for their Clean on Me Shower Cream. Which I love.
It's created with Elizabeth Arden - very floral and sweet, but not so much so that it gives you a headache! I'd describe it as perfectly feminine and lasts all day.
I love the uber girlie packaging - the charms are an absolute winner for me. I always love charms on perfume bottles!
It retails at £21 - £38 depending on size (30ml - 100ml) and can be purchased at Boots, Superdrug, Debenhams and The Perfume Shop.
Britney Spears - Island Fantasy
This perfume is totally different to the first one but equally as nice.
This one reminds me totally of a tropical holiday! I absolutely love it. It smells of limes, all things tropical and really fresh.
It literally reminds me of a tropical drink you would have at a holiday resort. I absolutely love how bright the packaging is and the diamante bits around the bottle. So pretty and looks like the sun bouncing off the sea to me!
Britney Spears Island Fantasy Perfume retails at £24 - £34 (50ml - 100ml) at Boots, Superdrug, Debenhams and The Fragrance Shop.
Popular Posts
Those of you who have been following me from the early days may recall I did a post on hair lightening, reviewing Jolene Creme Bleach . I...

Some of you girlies who follow me on twitter will have already seen my new hair colour through twitpic. Some of you were even nice enough to...

So, as promised, here is a review of the Lily Lolo products I bought samples of last earlier in the month. I bought Mineral Foundation sam...

Hey Lovelies, So it's that time of year again when I obsess about what to wear to the summer ball. I always look forward to ...

Disclaimer
All products discussed or reviewed have been tested by me unless otherwise stated and all opinions expressed are my own.



Blog Archive